Try these 3 Different Hand Lettered Envelope Methods to addresses your Christmas Cards this year! They'll look amazing with my new Christmas Photo Card Line from Mixbook.
Thank you Mixbook for sponsoring this post. All opinions are 100% my own.
I'm hoping you've been practicing your hand lettering skills this month because today we're going to put your skills to the test! Don't worry if you aren't ready to freehand quite yet, because I've got 3 Different Hand Lettered Envelope Methods and one is sure to fit your skill level! Hand Lettered envelopes gives a special touch to your Holiday Cards…and it will look great with my new hand-lettered designs at Mixbook!
Watch the video below to see which method will work best for you, or try them all!

Hand Lettered Envelope Method 1:
This cheater method is GREAT for beginners. I like to work with brush pens, but if you're not there yet, you can use a fine point pen for this, as well. Just keep in mind that the downstrokes are thick and the upstrokes are thin.
First, you'll type out your addresses on your computer in a hand-lettered font, print it out, and cut them up so they fit in the envelope. Smaller is best so you don't waste paper! Place the paper in the envelope and make sure it's centered. Trace over the writing, and that's it!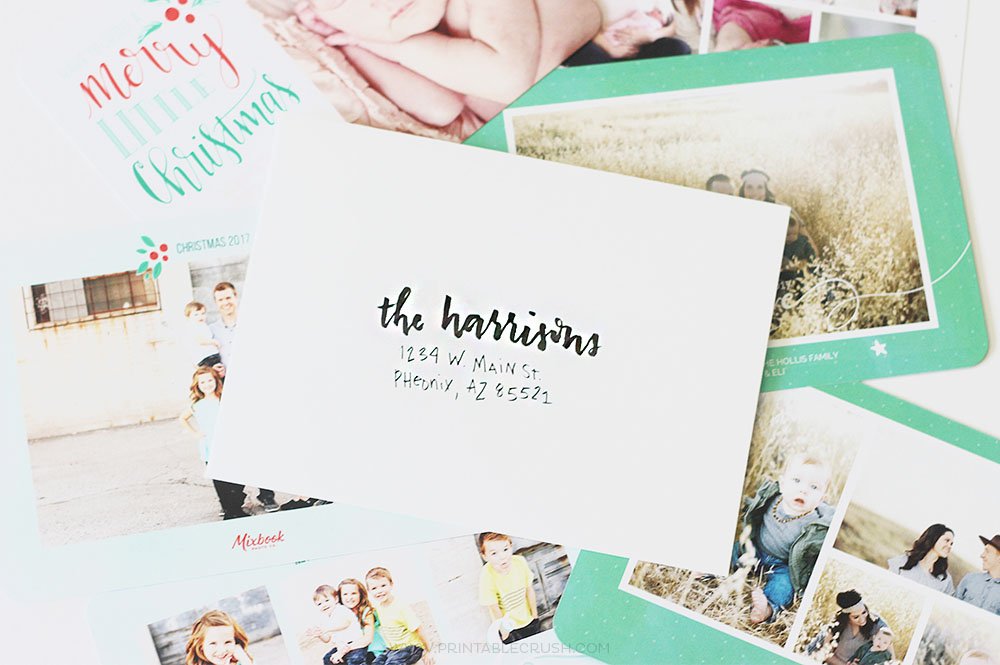 Cheater Method 2:
This is for the next skill level. If you're comfortable enough to letter, but maybe don't want to go through a bunch of envelopes, this will be perfect for you!
First, practice writing the names out on a sketchbook or scrap piece of paper. Try different styles and see which one you like the best! I ended up liking the monoline script. Cut out the piece you practiced one, then place it in the envelope, just like you did for the first method, and trace over it. A bright pad is pretty handy for tracing.
Hand Lettered Envelope Method 3:
Freehanding is a pretty obvious method, but I'll help you out with some tips if you're a beginner. I can rock lettering on the iPad or even in my sketchbook, but something permanent like an envelope for holiday cards is intimidating! Don't worry, though…you've got this.
Try a "messy" lettering style (like how I wrote out "the Harrisons") if you're doing a brush style. In this style, mistakes are welcome since they add a personal and stylish touch!
Use lowercase letters…if you're a grammar nazi, you're going to have to let this one go. Lowercase letters are way easier to write and it also helps keep your lines consistent.
Don't be afraid to get help…like placing lined paper in your envelope to keep your lines straight.
Practice! Just like in Method 2, practice on scrap paper with the pens you'll be using before you write on your envelope.
If none of this seems like fun to you…Mixbook can always print the addresses for you. I've got to admit, for a procrastinator like me, that is a great (and affordable) option 🙂
I'm loving the way these turned out! Even better, I can fit many family pictures on them and I KNOW that when I get them printed by Mixbook, they're going to turn out amazing! They're really easy to customize with your own greetings and pictures.
If you use my designs, make sure you tag @printablecrush and @mixbook on Instagram. We'd love to see how you make these your own!